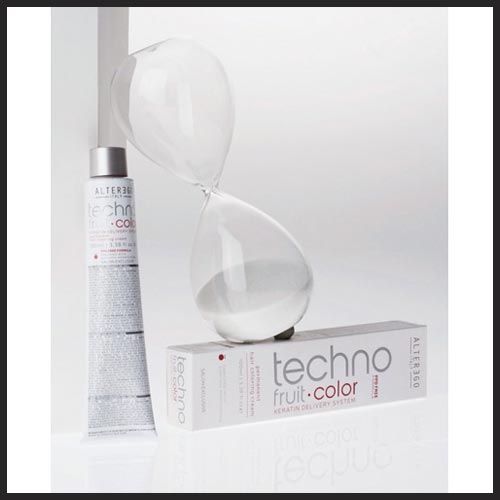 ALTER EGO ITALY
❤️


TECHNOFRUIT COLOR
Hair Color
---
permanent colouring cream
low concentration of ammonia enriched with Garcinia Mangostana
TECHNOFRUIT COLOR has been specifically formulated to provide exceptional coverage performance' brilliance and cosmeticity. Innovative technology: the effective transfer of colored pigments and the active ingredients provided by the Keratin Delivery System are a guarantee for perfect white hair coverage and maximum color expression.
Emollient agents:
- Garcinia Mangostana: composed of minerals and vitamins essential for hair that help the synthesis of Keratin and the antioxidant effect. This allows you to keep the color alive and brighter for longer' protecting the hair from the formation of free radicals;
- Silk proteins with a restructuring and reinforcing action;
- Moisturizing and restructuring wool oil.
Benefits:
- high cosmetics for a perfect coverage of white hair;
- protected hair structure to ensure a perfectly uniform color;
- effective anti-oxidant action for vibrant and more durable colors;
- wide range for unlimited creation of customizable nuances;
- exclusive formulation enriched with precious emollient agents for a regenerating and revitalizing restructuring action;
- soft cream easy to mix.
nuances: 122 divided into 24 color series (INTENSE NATURAL - INTENSE ASH - MATTE - BROWN - IRISÈ ) and 88 nuances (NATURAL - ASH - BEIGE - GOLDEN ASH - GOLDEN - GOLDEN COPPER - BROWN - NATURAL COPPER - GILDED COPPER - COPPER - DEEP COPPER - RED COPPER - RED - MAHOGANY - ASH MAHOGANY - IRISÈ - IRISÈ INTENSE - IRISÈ ASH - EXTRA RED) in addition to intensifiers (NEUTRAL - RED - YELLOW - PURPLE - ORANGE - BLUE).
packaging: 100 ml tube.
---
Rate this product:
37 click
Viewed 172752 times
+3903311706328
Download PDF